10 Killer Ways Of Getting 2000 Visitors Per Day: Traffic Study 2
Traffic is like a treasure which every bloggers, webmasters and even hackers search for. Web traffic is the ultimate goal (not for some) that most bloggers strive for. Today! I want to show you how I get 2000+ targeted traffic naturally without applying SEO but a little form of tweaking. But before I move further, let me show you my Google analytic so you won't think otherwise.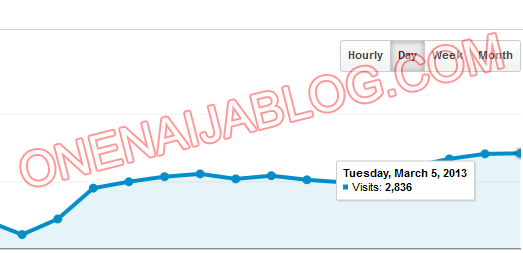 Yep! I know the statistic is not that huge for some but for some it is a big task and on this short but detailed post, I am going to show you the methods I took to get me 2000+ visitors per day but before I proceed, let me ask you; why do you need traffic to your blog? Because I heard that traffic does not equate money!
Must Read: 10 SOLID WAYS OF GETTING 1500 VISITS PER DAY: TRAFFIC STUDY
HOW I GOT MY 2000+ VISITS PER DAY
I am going to be discussing more ways on getting targeted and continuous flow of traffic and at the same time, getting backlinks from high PR sites on this article. Many of you must have known or heard about the methods I am about to drop but the question here is; have you applied it on your blog before? If not you must have a good reason but is it possible to share your reason with us?
Before I get carried away, let me drop them fast
√ A GOOD TITLE FOR YOUR BLOG POST:
I love; I mean we all love and would click titles that attract our eyes, right? So as search engines! If your content is great and your title is not attractive, it will surely make those precious visitors you called "traffic" pass you by without even checking you out. Is that a fact or just a saying? Even with crappy content but great title will surely attract visitors to your blog.
Tips: I usually spend time creating my blog's titles to give it that tastes and flavor. I make the title the way I would want to search it online (search engine). So why not try the same methods!
√ TAG YOUR POST WISELY:
While other bloggers love setting their keyword to get higher ranking, I love focusing on my tags because the tag you're seeing on your blog can go a long way than just a tag. At the earlier stages of website, tag is so essential that search engines use it to rank your blog/ website, but letter on its effect on sites became minimal. But since nobody is paying more attention to it, don't you think it might have revived its self?
Tip: No tip 🙂
√ SHARE YOUR CONTENT TO ALL DIRECTORIES YOU COULD THINK OF:
On my first traffic article I mentioned this step and I am bringing it back because this step is so effective and a very useful tool to all bloggers and web masters. Social bookmarking sites gives you a high PR backlinks and as well as traffic. The main reason I advice any blogger to submit their website to all social bookmarking site they can find, is to gain credibility and quicker indexing of one's blog/ website.
Must Read: 250 SOCIAL BOOKMARKING SITES THAT CAN DRIVE TRAFFIC TO YOUR BLOG
√ CHECK AND REPAIR ALL BROKEN LINKS:
Believe it or not traffic also deals with load time and how responsive a blog is. If you want to get organic traffic, you need to make your blog as healthy as possible. But how can you make a blog healthy? Easy! By checking for broken links and fix it, making sure your blog is not attacked by some malware or viruses… hmmm… and what other?
Tip: Make sure you have a Google webmaster to check your site health and more and always keep your blog free and flowing 😉
√ SUBMIT YOUR BLOG/ WEBSITE TO WEBSITE FEEDBACK:
This is one oldskool ways of getting tremendous traffic to your blog; it has been forgotten and now it has been brought back as an untapped source and you too can tapped from this source and see how large your traffic will become.
How this works: There are some sites out there that are meant to help you get conversion potentials or feedback on your site's layout. To get a link and as well as traffic from these websites all you need to do is submit your website/ Blog with a little description of how you want to improve it.
One good thing about this step is, your link will be on a high PR do follow websites.
√ SOFTWARE/ APPLICATION SUBMISSION
This is another untapped source and this is far my best ways of getting traffic and as well as high PR backlinks.
How can one achieve this? You will create an application that has a link back to you and submit it to some high PR software vendors Like Cnet, Brothersoft, softtonic and many more…
You don't know how to create app or software? That's ok, because nowadays you can create a customize app without the knowledge of coding or any designing idea. There are some sites out there that create a puzzle game for you with just a click, site like; sploder.com can create a free puzzle game for you.
√ WRITE FOR YOUR SELF AND NOT SEARCH ENGINE:
Must Read: 3 POSSIBLE WAYS OF GETTING A GOOD AMOUNT OF TRAFFIC TO YOUR BLOG
Traffic is a natural gift from the "web" 😉 it's like a fountain, every bloggers, webmasters can get as much as they want and there will still be more for others who want to take from;  There is enough traffic for everyone right? Why do you write for search engine when "natural-ity" pays even more? I don't write for search engines, I only write for myself and the things I encounter and guest what? I was rewarded for my "naturality" by Google 🙂 . So I'd say all my post that I write has authority. This is to show you that natural stuffs pays even more
√ ALWAYS PROMOTE YOUR BLOG POST:
blogging is a constant thing, you might be posting everyday and I am posting once a week and I am getting way more traffic than you. The traffic source is not from your post but from how constant your efforts are. Web traffic deals with constant promotions and well monitored eyes 🙂 or what do you think?
√ WHAT YOU THINK?
I have drop some more ways what do you think about these ways? What other untapped ways do you get your traffic from? Please do share with us using the comment box below to learn even more because we all want to take from that fountain 😉
Must Read: 5 GREAT REASONS WHY YOUR BLOG IS STILL HIDING AND HOW TO FRONT IT
Do you have thoughts and questions or just feel like dropping a comment? Then please use the comment box below to drop them. Remember that your comments and thoughts are highly welcomed and appreciated.
Did you connect with the post? Then please do click the like box, share us and recommend us to friends because you'll never know which of your friends might be in need of it.
Do not forget to subscribe to our feed for your latest updates on the go…