The New Blogger Blog HTML Editor
Hey guys! I must confess that Google is doing some pretty good job with their advancement. They have rolled out some quit great stuffs this past few months and which most of us bloggers find interesting, loved and welcomed with warmth hands. To mention some of the cool features that Google rolled out are; Google authorship, Google+ comment box, real time traffic report, hangout, community and so many other cool features and more awesome and even greater features are coming up in the near future…
Must read: Why Every Blogger Must Have a Gravatar?
It's been some weeks since I've checked my blogger blog HTML editor dashboard, the reason? Because I have not been editing codes and widgets on blogger blog for quite some time now and creating new codes just feels tiring because of the simplicity wordpress developers gave their users.
Some days back, a friend asked me to create a blogger blog template for him which I did. Now I have finished with the template design and went to my blogger blog → created a new blog for testing → went to my HTML editor and find out that it is not the way it were some days back I checked, the whole world of my blogger Editor just look like a new world to me 🙂 . To tell you the truth, it was a bit confusing because to be honest, I haven't seen or heard about this feature and I'll say that one of the other reasons why I haven't heard about this is because, most of my blogger friends are on wordpress platform.
After analyzing the new HTML editor and the nice features they added, I discovered that it is even simpler but yet advanced compared to the previous versions.
Here are some few reasons why I love and prefer the new blogger blog HTML editor:
Must Read: Adding Mobile Adsense Above And Below Your Mobilepress Theme
They made the new design even simpler for a none-techie to implement codes and widgets. Google blogger team made the code editor that simple that all codes are categorized in sections, like you can edit the widget codes without any long search process or even pressing the ctrl+f search key. You can edit your HTML 1, 2, 3, header, footer and many more HTML edits by clicking "Jump to widget". [See Shot Below]
Tell me what else could you possibly ask for? You can even have a live preview exactly at the same time as editing your HTML codes to know how it looks. No stress and no hassle but with your brain you can achieve a lot with this 😀 . [See Shot Below]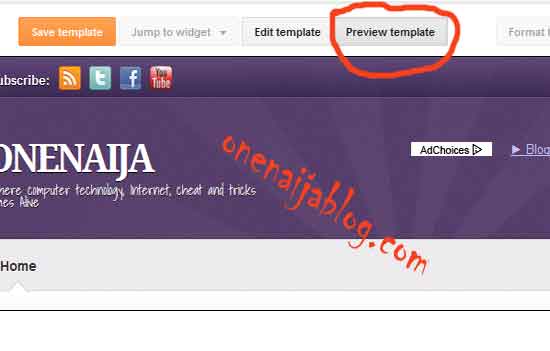 If you don't like what you've edited so far or you have some simple problems that you're facing with your codes that you implement, you can simply revert the whole process by clicking "Revert widget templates to normal" or you can as well click the "Revert changes" to return all changes to default.
The new HTML editor really did make blogger edit simple for both experts and non-techie kind and top the matter, it's even well organized. Thumbs up to the blogger teams for this great master piece, they really are working and I respect that.
Now over to you guys:
Must Read: Top 7 Tips for Blogging Success
I know most of you who read my blog don't have a blogger blog but let's make the place more lively by answering this question; how do you see the new features the Google team are rolling out? your answer and contributions are most appreciated and welcomed.
If you are using the blogger blog platform, how do you see the HTML editor? Is it that simple or too difficult? Your lovely discussion will be wonderfully welcomed using the comment box below.
Are you finding the new editor difficult or do you wanna make a comment? Please do by using the comment box below. Remember that your comments and thoughts are highly welcomed and appreciated.
Was the post helpful? Please share the love by clicking the like button, share us and recommend us to friends because you'll never know who among your friends are searching for some great information like this. Do not forget to subscribe to our feed for your latest onenaija updates on the go.