10+ Best Printers to Convert to Sublimation (2023)
Have you been searching for the best printers to convert to sublimation? Then search no further because we have specifically prepared this article to guide you to get the best printers for your conversion needs.
Although there are lots of printers out there, not all of them can fit that purpose. Also, you can have some that you don't need to convert at all even though they come with their advantages, they still have their disadvantages.
If you are an enthusiast who derives pleasure in doing things yourself and seeing them work or you just need something you can afford to start your small sublimation printing business then looking for a printer to convert should be your best bet.
After carefully comparing different printers out there that would be ideal to convert to sublimation and suit any of the purposes mentioned, we found the discontinued Epson printers to be the best.
Before embarking on your journey of converting to sublimation you need to have a grasp of the basics. Sublimation is a way of adding a color design permanently on surfaces like tea cups, flags, or shirts.
Such designs are done using specific kinds of printers that are pressed on the polyester surface using heat. When the ink receives some degree of heat it sublimes or converts to vapor and binds to the surface.
To be able to achieve your conversion to sublimation, you need printers with a Piezo print head. The piezo print heads work perfectly for sublimation against those with a thermal print head. Now, let's see some of the best printers to convert to sublimation out there:
As an Amazon Associate, I earn from qualifying purchases when you use my links. This comes at no extra cost to you. (Thanks ?)
Best Epson Printers to Convert to Sublimation
1. Epson Ecotank ET-2800:-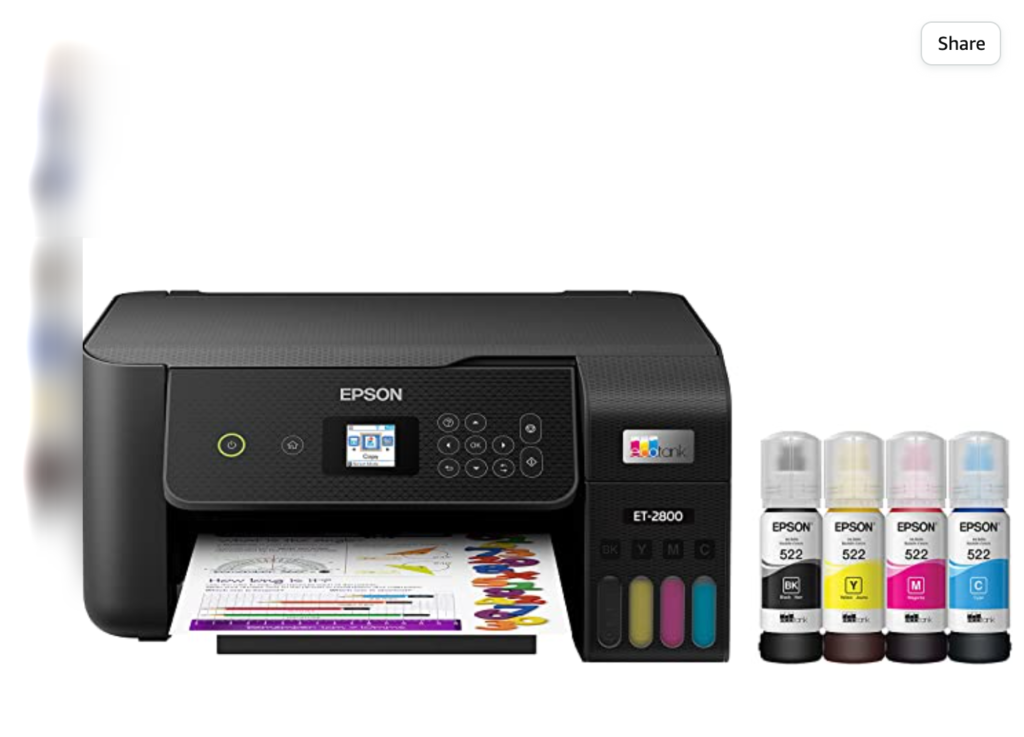 Epson Ecotank ET-2800 is a model of Epson printer designed for ease and convenience of users.
Unlike the cartridge printers, it comes with a refillable tank that not only cuts the cost of replacing disposable ones but is also eco-friendly and uses the Piezo technology to apply prints making it just right for converting options to sublimation printers. 
Its dimension allows for the production of moderate-size prints on surfaces and its light weight makes it easy to be moved around. With modern connectivity options, you can have your prints sent from wherever you may have them to the printer for print.
Features
Dimension (14.8 x 22.8 x 10inches )

Weighs (12.42 pounds)

Ecofit ink-bottles

Wireless/USB connectivity
Pros
Easy to move around

Convertible

Generate quality prints

Easy to set-up
Cons
No paper tray

It can be a bit slow
2. Epson Ecotank ET-2803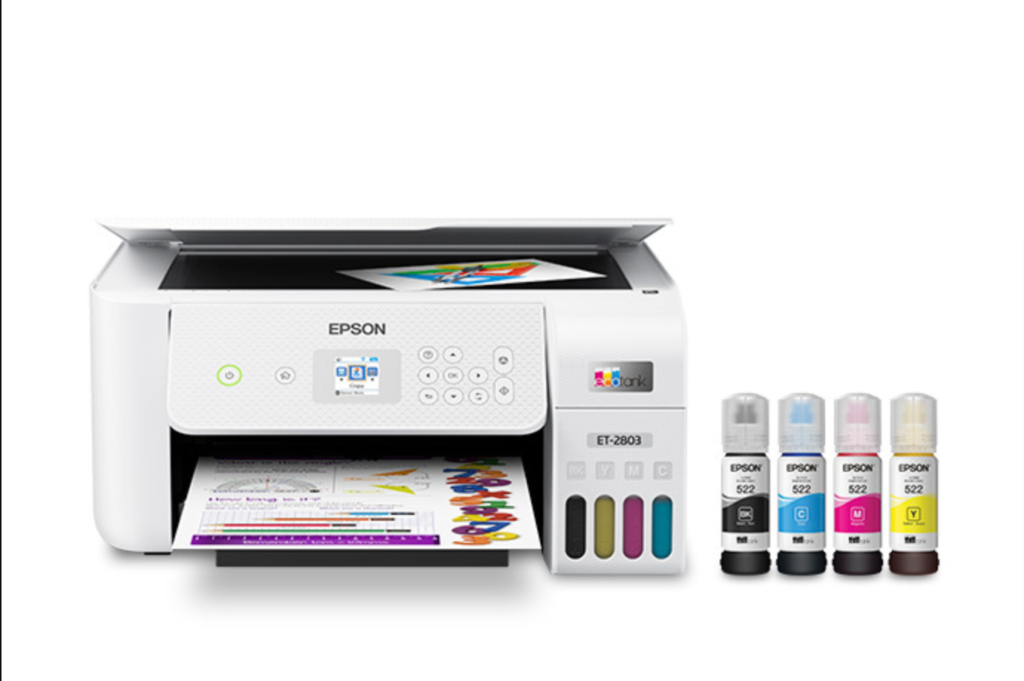 The Ecotank ET-2803 model of Epson is a high printing and eco-friendly printer that comes originally with a scanner and photocopier. It uses piezo technology to print on surfaces.
You don't have to worry about cartridge gargets which often end up in the waste and the cost of replacing them because it comes with a high-capacity ink tank. The micro Piezo print heat makes it just suitable for conversion to sublimation.
Features
Dimension (19.6 x 15.9 x 9.2inches)

Weight (12.42 Pounds)

Refillable

Inkjet printing tech

Flatbed scanner type

USB ports

Wireless connectivity
Pros
Produce quality prints

Can print from other devices through USB

Lightweight
Cons
Wireless connectivity is not effective

The Paper tray is exposed and prone to dust
3. Epson Artisan 1430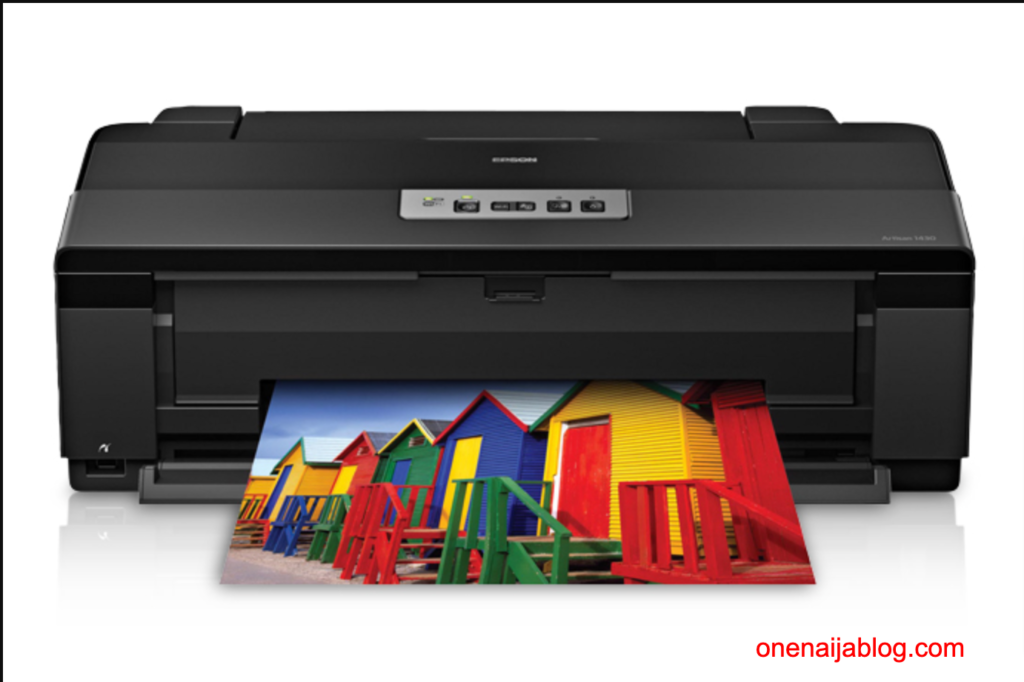 Epson Artisan 1430 is a wide format printer that takes photo printing to a whole new level, delivering an ultra-high definition print with dimensions of 13 x 19 inches.
It allows a convenient wireless connection with other devices. Anyone sharing your network can print large-size and gallery prints. Not only that you can produce professional prints on other objects like compact discs.
It prints on surfaces last longer than those produced in a photo lab. If there is any other printer that serves just the right purpose for conversion to sublimation, Epson artisan 1420 it is.
Features
Inkjet

Wireless and USB connection

Dimension 17.3 x 27.8 x 12.5inches

Weight 35.3 pounds
Pros
Cons
Large size and can take up more space
4. Epson WorkForce WF-3620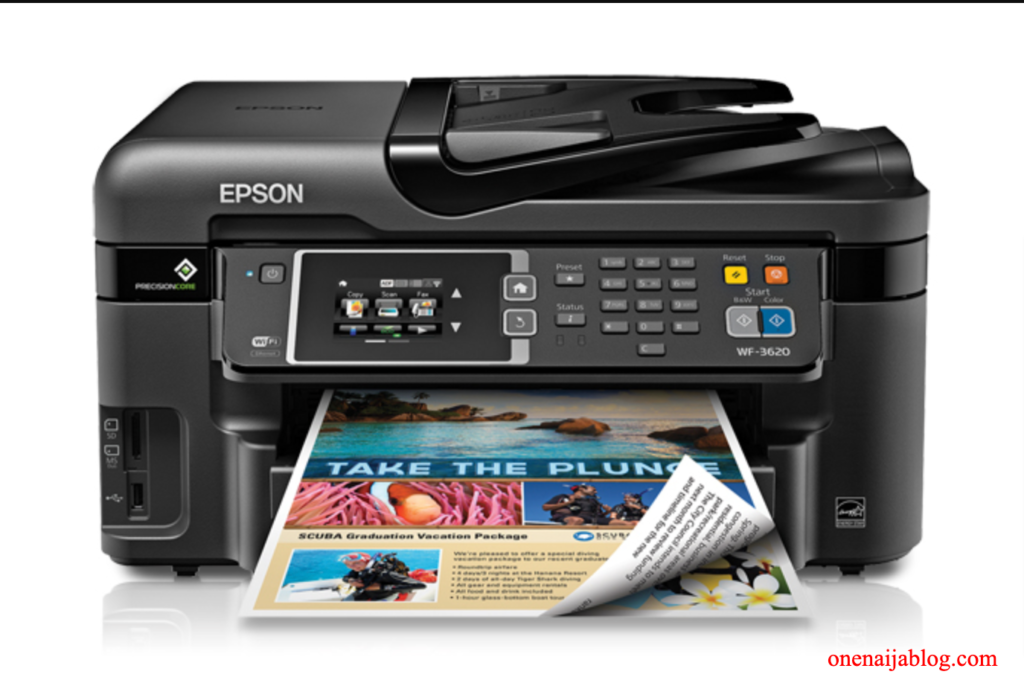 Epson Workforce WF-3620 brings everything in a fold with its smart features and functions that allow you to carry out prints most conveniently.
It produces high-quality print and fasts with its efficient inkjet. The printer's features not only make it easy to use and maintain but also make it suitable to convert to sublimation.
Features
Weighs 24.7 pounds

Dimension 19.2 x 21.1 x 12.9 inches

Wireless connectivity

2.7 touchscreen display

Double sides print

inkjet
Pros
produces high-quality prints

easy to use
Cons
not suitable for heavy-duty purpose

The print head can easily get damaged when opened to clean it up.
5. Epson WorkForce WF-3640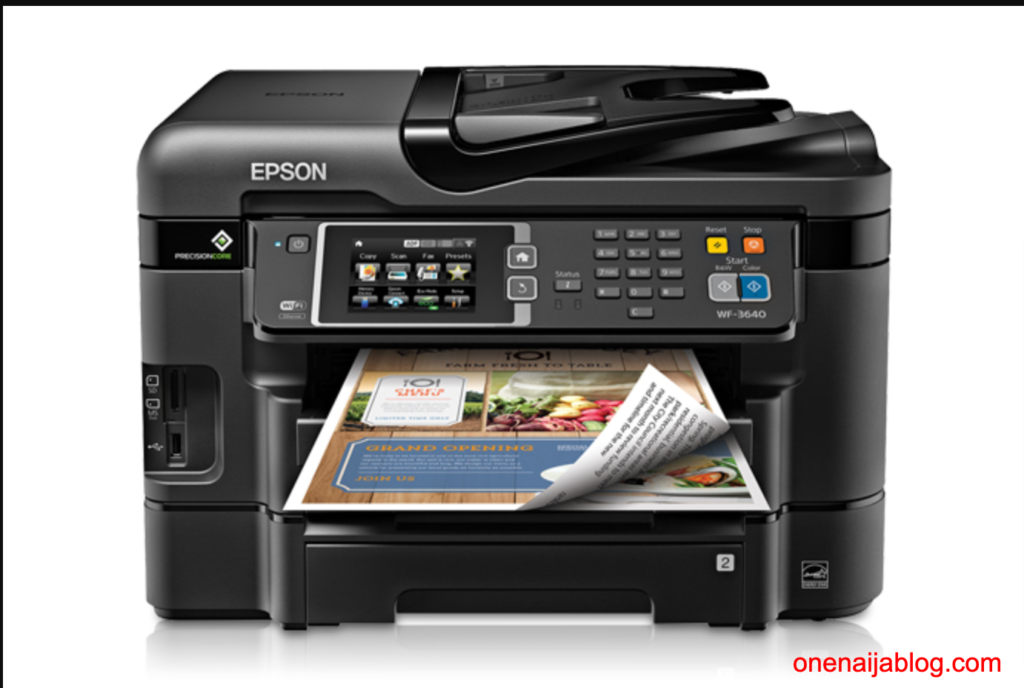 The Epson Workforce WF-3640 is one in the series of the workforce that shoots performance beyond laser. It is powered by a precision core with professional print quality and incredible speed.
You can print from just any kind of device through wireless. The inkjet technology that comes with it makes it just good to convert to a sublimation printer.
Features
Dimensions 20.2 x 21.1 x 15.6inches

Weighs 30.2 pounds

Injet

Wireless connectivity

USB ports
Pros
Easy to use

Produce quality prints
Cons
Prone to technical functionality issues

No AI features
6. Epson WorkForce WF-7110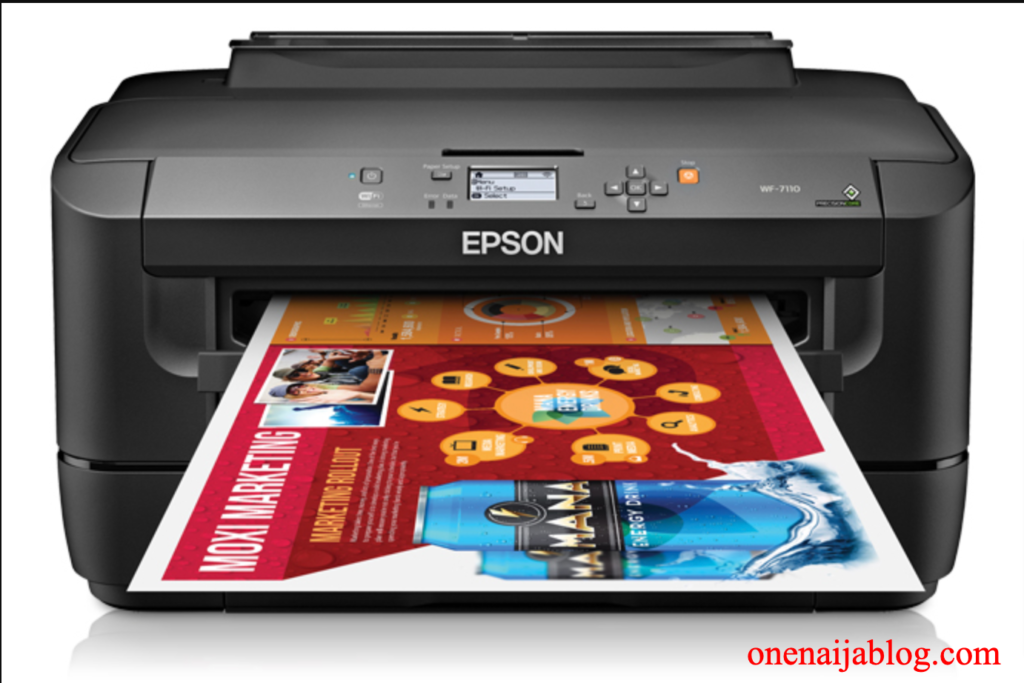 This is another model of Epson's workforce known for its high-quality prints and speed. It is also powered by a precision core with great ease in receiving files from other devices for prints. Just like other discontinued printers the Epson workforce wf-7110 can also be converted to a sublimation printer.
Features
Inkjet

Wifi, USB, Ethernet

Dimension 22.2 x 28.6 x 16.4inches

Weighs 40pounds
Pros
Easy to use

Heavy duty use
Cons
Require more space for its paper trays
7. Epson WorkForce WF-7710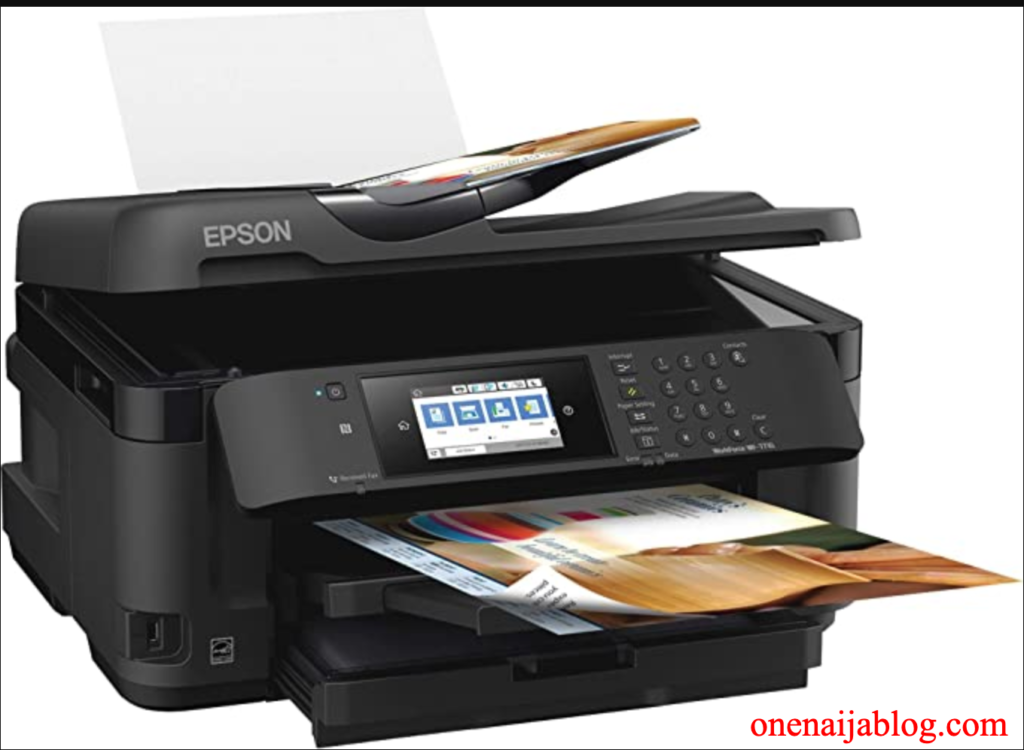 This is yet another brand of the Epson workforce series. It comes with wifi, USB, and Ethernet features like others in its series but is a bit weightier than the previous one we discussed with a much wider dimension.
But what makes it interesting is that its printing technology features make it ideal for conversion purposes in sublimation printing.
Features
Inkjet

Wifi, USB, Ethernet

Weighs 40.9 pounds

Dimension 22.2 x 28.6 x16.4inches
Pros
Easy to use and maintain

Eco-friendly

Good for both home and industrial use.
Cons
8. Epson WorkForce WF-7720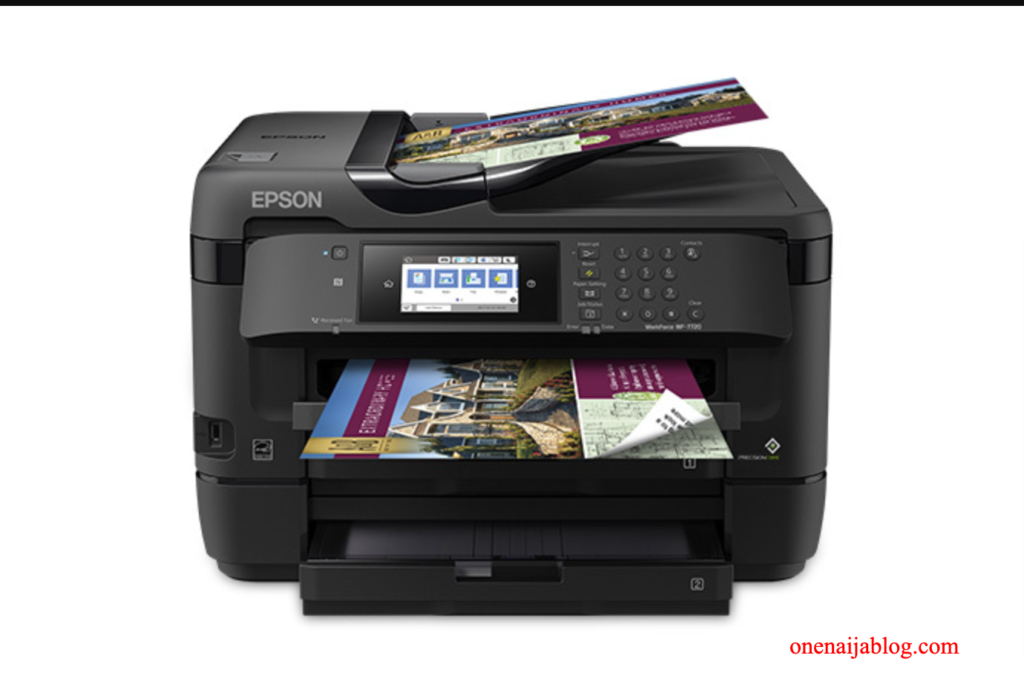 The Epson workforce wf-7720 too like its other version is just ideal for your conversion to sublimation. It uses inkjet printing technology that makes it reassuring to get the best out of the conversion. Plus, it comes with modern features like wireless to help you interact with the print even from a distance.
Features
Inkjet

Wireless connectivity

Dimension 32.2 x 22.3 x 13.4inches

Weighs 40.8 ponds
Pros
Easy to use

Eco Friendly

Product good grade prints
Cons
9. Epson WorkForce WF-7610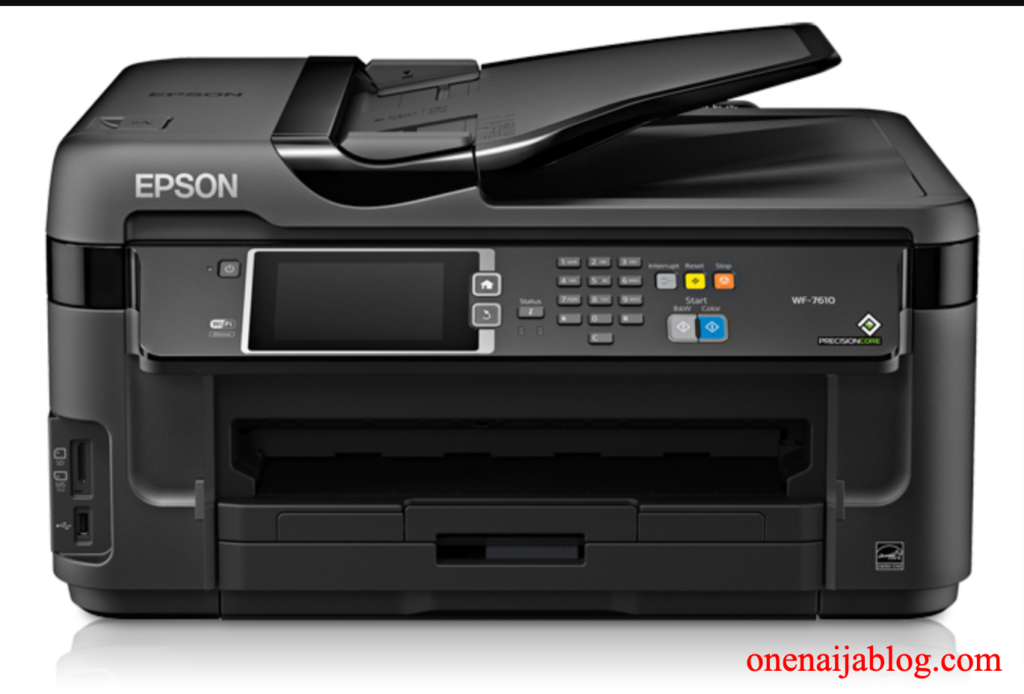 This is a multifunction desktop printer that has everything in one fold. It is built with features like wireless connectivity like others in the workforce series. The print speed is incredible with great print quality.
This desktop workforce printer uses inkjet printing technology that makes it just right for your conversion to sublimation purposes.
Features
Weighs 40.8 pounds

Dimension 22.3 x 32.2 x13.4inches

Inkjet

Wireless
Pros
Produce great quality prints

Heavy duty printing
Cons
Cleaning the printer head always to avoid banding during printing

Prone to technical malfunctions
10. Epson Ecotank ET-2700
Epson eco-tank ET-2700 is an all-in-one cartridge-free printer with ink tanks that can hold up large quantities of paint. You can use it for multiple printing without the worry to refill sooner.
It is built for both home and office use. Like other Epson printers, Eco-tank ET-2700 also uses inkjet printing technology which makes it a perfect printer for conversion to sublimation.
Features
Wifi

Inkjet

Wireless

Weighs 11 pounds

Dimension 22.3 x 14.8 x 10.2inches
Pros
Easy to use

Easy to load supply tank
Cons
Produces poor-quality prints

Cleaning the print head always to improve quality
Other Discontinued Models that can be converted to Sublimation
There are other good Epson models of printers that are just as good as those we talked about. That is, it broadens your choice to pick the best convertible printers that would just be right for your conversion purpose.
Epson EcoTanks are super tank printer that features wireless connectivity. They have all functions in one like printing and scanning which saves you the cost of getting extra devices to get a job done.
The ink tank can hold up a large quantity of ink as you go on to print as much as you want, without worries.
The difference between the EcoTank model and the Workforce model is in the ink cartridge that they use.
For the workforce models, they use a whole ink cartridge combined with sublimation ink and then put it into the printer. But eco-tank has an in-built ink tank that you can just go ahead to fill without going through the whole stress of the workforce printers.
The fact that the workforce models need ink cartridges, causes them to encounter issues like chip failure especially due to the removal and insertion of it to refill and print.
But with the eco tank inbuilt ink cartridge and not requiring it to be removed before it is filled, it makes it the easier model of Epson printers to convert to sublimation.
They are affordable and produce good sublimation or if you decide to pick from what we have here you can have your conversion either way. The other discontinued models that can be converted to sublimation are:
Epson EcoTank ET-2720

Epson EcoTank ET-2750:-

Epson EcoTank ET-2760

Epson EcoTank ET-3710

Epson EcoTank ET-3760

Epson EcoTank ET-4700

Epson EcoTank ET-4760

Epson EcoTank ET-7700

Epson EcoTank ET-7750
Is it only Epson printers that can be converted to Sublimation?
The simple answer to this question is, no. Various other printers can also be used for conversion into sublimation. Brother printers are also good to convert to sublimation but they have their downsides.
Brother printers have been successfully used for sublimation by some people and most of these printers use Piezo printing technology. A few of the downsides about this type of printer is that their sublimation ink and replaceable cartridges are no longer being produced for them.
That is to say, there would be a dart to the quality of prints that it produces because you can't get the sublimation ink for your ink profile.
After sublimation, you need to finish with sharpness and make it vivid, and it is for this reason that brother printers are not advisable to be used in sublimation, unless for hobby's sake. Generally, Brother Printers can work well for sublimation with an awesome outcome if improvements are done to it.
Can Canon Printer be converted to Sublimation?
The straightforward answer to the canon printers is, No! Canon printers are not convertible into sublimation printers.
The reason for them not being suitable for such a purpose is because they use thermal printing heads against the Piezo type of printing head that makes the conversion to sublimation possible.
However, they use sublimation ink which often gets people confused if they are sublimation printers, they are not. Although they have in-built printers which allow them to sublimate photos into films you cannot insert a paper in it and get sublimation print, no!
Canon printers cannot be converted to sublimation and please do not confuse a Canon sublimation photo printer for a sublimation printer.
Best Printer to Convert to Sublimation
Before you can think of converting your old office or home printers to sublimation, you first want to find out if they use the Piezo printing technology and whether they are functioning properly.
If you happen to have a Brother printer sitting on the table and you think you can do some DIY on it into sublimation then you can give it a try. But note that it has its downside.
Canon printers are not suitable to convert to sublimation as we discussed.
Lastly, if you want to get some tech stuff done by yourself as in to convert to sublimation, give Epson printers a try. They are the best printers to convert to sublimation.
Recommended Readings
What is the Cheapest sublimation printer?
What are the pros and cons of Ink tank printers?