4 Best Sublimation Paper for Epson Printers 2023 (Top Picks)
If you are in the market for the best sublimation paper for your Epson sublimation printer, you probably know the criteria your choice should satisfy.
You may have in mind sublimation paper that has a high transfer rate and does not let the ink smudge. Or you may just need a sub-paper that can withstand high temperatures. Your criteria might include all of the above and some more.
If so, you are in the right place. In this review, I will put four of the most popular brands of sublimation paper to the test and, in the end, pick a winner.
It's a contest between TexPrint DT Heavy, Printer's Jack, Hipoo, and A-Sub. Which of them will take the crown? Let's dive straight into the review and find the answer.
TexPrint DTr Heavy
TexPrint DT Heavy is a rebrand of the TexPrint R produced by the Beaver company. The tag "Heavy" means the paper works with heavier inks while still maintaining high-definition color fidelity
The TexPrint lineup of sublimation paper maintains premium definition and color fidelity. Texprint DT Heavy is no exception.
TexPrint DT Heavy prints colorful designs on any substrate, such as clothes, ceramic, photographic paper, et cetera. It doesn't matter whether it's a hard surface or a soft one.
TexPrint can achieve its printing feats because it's a thick paper, so it can handle high ink saturation. It is also built for high printing speeds and heavy ink loads.
Epson sublimation printers are among the best in the business; thus, it's only normal that they are paired with the best sublimation paper in the industry. It's hard to find dye paper that does better than TexPrint DT Heavy.
Pros
Excellent transfer rates and sharp colors without smudges.
Variety of sizes for printers and projects.
TexPrint watermark differentiates the backside from the printing side.
Excellent price-to-performance ratio
Cons
Limited availability outside the US.
A-sub Paper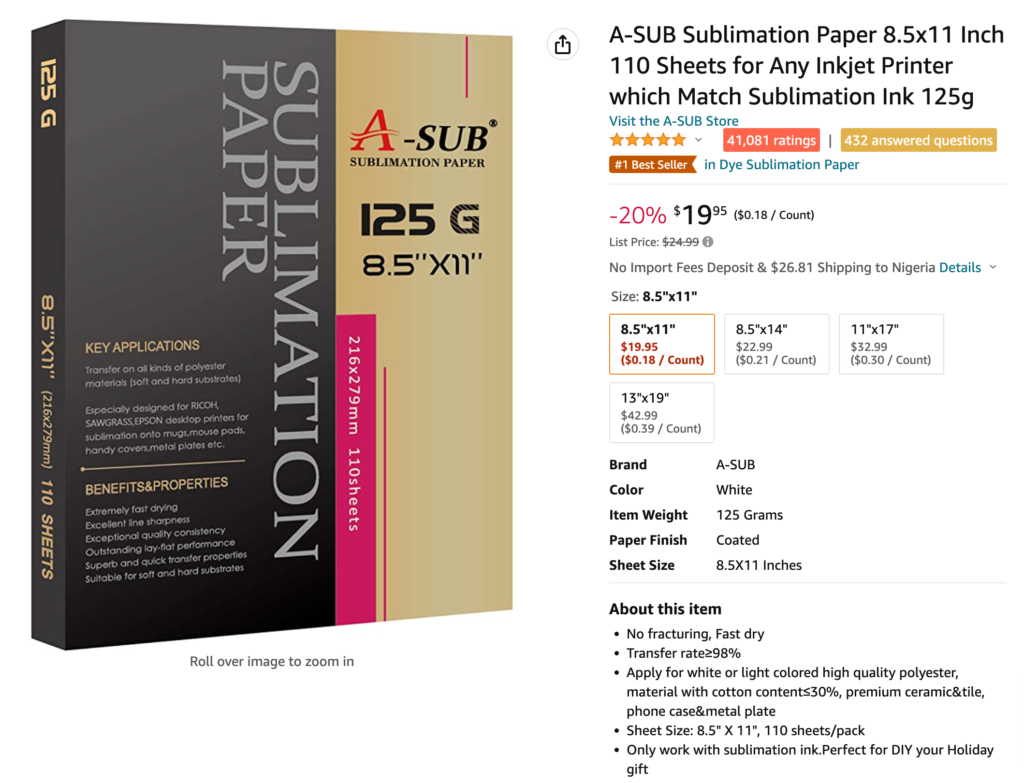 A-sub paper is made by the A-Sub company, which has been in the customization industry for over 20 years.
The company makes A-grade sublimation papers with enough techy features to be among the best in the industry.
The A-sub paper is suitable for imprinting on all kinds of materials. Pillows, tumblers, mugs, plates, et cetera are just some of the many areas of application.
The paper comes in different sizes, has a high ink transfer rate, and can withstand very high ink saturation.
Naturally, different sizes and weights of paper will differ in transfer rate and ink saturation, but you'll be getting a good experience nonetheless.
At its best, the A-sub paper can do ink transfer rates of 98% per minute and can handle ultra-high ink saturation. Those are very respectable specs.
The ink also dries very fast, does not fracture, doesn't smudge, and doesn't get powdery as some other sublimation inks do.
You can get A-sub papers up to 120 and 130 GSM thick, representing some of the thickest papers in the industry. Also, the variable sizes mean that you shouldn't be hard-pressed to find the right size for your Epson printer.
Nevertheless, even with such specs, A-sub sublimation is a notch below TexPrint and doesn't enjoy the brand recognition that TexPrint has. Despite that, A-sub is more expensive than TexPrint, although not by a wide margin.
Pros
High transfer rates
The ink dries very fast and leaves no smudges.
Cons
Can have problems with ink sticking to the vinyl
It is more expensive than TexPrint but without brand recognition.
Printer's Jack
Printer's Jack is a Chinese brand of sublimation ink. The water-based dye ink passes through a rigorous filtration process and is packaged into bottles for filling ink cartridges.
Printer's Jack has its own sublimation paper, which pairs well with the ink. The ink can be used on any surface, from wooden boards to metal plates to polyester.
Printer's Jack sublimation ink and paper work well for complex photos and can accurately reproduce skin tones. They dry very quickly and do not smudge.
Adding to Printer's Jack's good reputation is that the ink and the sublimation paper are biodegradable and hence, easy on the environment.
Additionally, Printer's Jack is a durable sublimation ink. While exposure to sunlight can adversely affect printer ink by triggering chemical reactions that cause it to break down, Printer's Jack is anti-UV, making it resistant to even string sunlight
Pros
It doesn't clog printer cartridges due to the very fine nature of the ink
The printing side of the paper is clearly differentiated from the backside. The back side has a blue hue, while the printing side is pure white.
Anti-UV series helps prevent your projects from fading even under continuous exposure to sunlight.
Cons
It might not fit all Epson printers.
Prepare your mind for some occasional paper jams.
Requires higher temperatures and pressing times than the average sub paper.
Hiipoo Sublimation Paper
Epson manufactures Hipoo sublimation paper for its sublimation printers, although other printers can use it.
The paper allows an ultra-high transfer rate of up to 98%, so it's on par with TexPrint and A-sub.
A pack of Hipoo sub paper comes with 110 sheets, and it's relatively cheap compared to some other brands of sub paper.
The Hipoo sub paper comes in sizes of 8.5×11″, 8.5×14″, and 13×19." Thickness styles are 120G (heavyweight) and 105G (lightweight)
Speaking of applications, there's a wide range of what you can use Hipoo paper to do. You can use it for your DIY projects and your business needs as well. You can use it on many substrates like wood, textile, phone cases, pillowcases, ceramics, and even keychains.
Pros
Gives suggested time for different substrates.
High transfer rate and beautiful color reproduction.
Cons
It can be hard knowing which side to print on, especially if you have problems seeing color well. The light pink backside and the white printing side can be easy to confuse for each other.
How I Compared the Papers
The four brands of sublimation paper I've just discussed with you are among the best in the industry. But upon closer examination, some differences pop up here and there.
I was able to spot the different traits of each sub paper by subjecting them all to the same printing tests using the same printer and the same heat process.
I then tasked the sub papers to reproduce a floral design on the same substrate and then on different substrates.
That way, I could compare their performances against each other when they had the same substrate to work on and then when they had to deal with different substrates.
At the end of my testing, I discovered that TexPrint DT Heavy consistently came out on top, no matter the substrate used.
A-sub and Printer's Jack were close contestants for the second position, but I had to give the upper hand to A-sub because of its slightly more accurate color reproduction.
Hipoo sublimation paper is not bad by any stretch of the imagination. Still, it can be slightly harder to differentiate the backside from the printing side, unlike its opponents, which is why I'm assigning it fourth place.
Wrapping Up
Picking the best sublimation paper for your Epson printer is not merely glancing at their carton and checking out their specs.
You need to know how they interact with different substrates such as textiles, wood, metal, etc. Check their availability as well as their pricing too.
After thorough testing based on those parameters, I can single out TexPrint DT Heavy as the best all-rounder sub paper for Epson sublimation printers.
Related Articles
7 Best sublimation printers for t-shirts
Best small printer scanner for home office
Can you print on construction paper?