Ghost White Toner vs Oki – Which is better for printing?
Deciding on a toner to get for your printing machine can be a headache especially if you are new to using laserjet printers.
Ghost white toner and Oki toner are just two of the brands that provide quality toners for good printing.
But they do have their differences and in this article, I'll help you decide which is better for your printing jobs.
Let's get started.
Overview of Ghost White Toner and Oki Toner
Ghost white toner makes it easy to print on fabrics and leather. It is one of the most respected brands of white toners in the industry.
The parent company that produces Ghost white toner also produces cartridges, sublimer toner, neon toner, and several other products.
But the white toner is the most popular of their products.
You can make use of the white toner to transfer design print on t-shirts and other materials without the fear of washing off.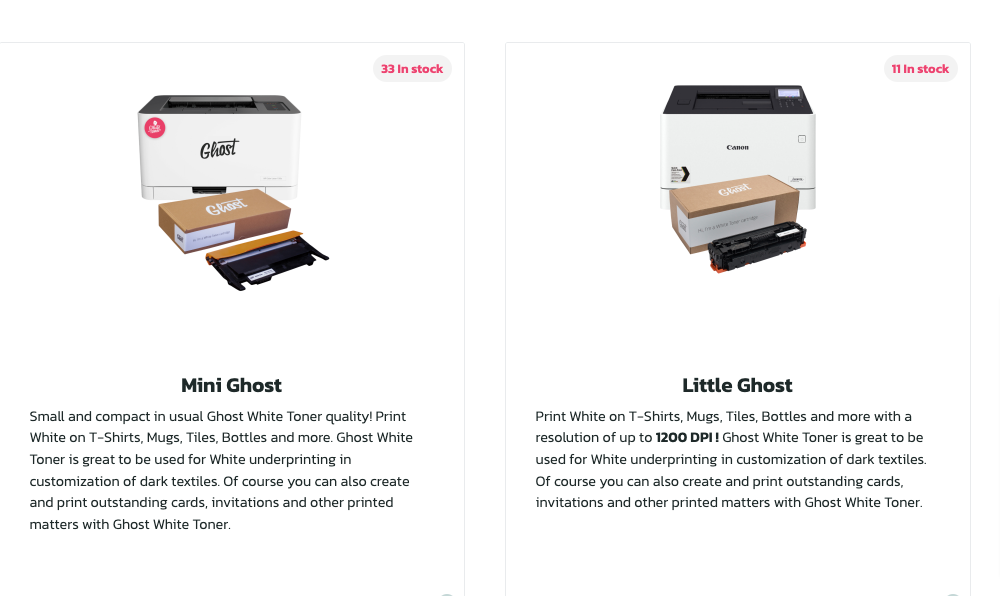 Oki, on the other hand, is a brand that produces printers and toners. You use the Oki toner alongside their printer.
One interesting fact about the Oki products is that they are created specifically for office and industrial printing.
Cartridge
Ghost White Toner cartridges are distinct from OKI toners in many ways. Toner cartridges from Ghost White Toner are compatible with both color and monochrome laser printers.
They create high-quality prints while consuming less toner than standard cartridges.
However, OKI toners are made to function exclusively in OKI printers. They come in a number of hues, and both their durability and dependability are assured.
OKI toners also provide high-quality prints, but they are more expensive than other options for commercial and industrial printing.
Usage – Home or Commercial?
Not all printers can be used for commercial purposes. Hence, let's see how both printers differ in their usage.
Unsurprisingly, Oki printers are not designed for textile printing. Instead, they are more suitable for office and industrial printing.
On the other hand, Ghost White Toner is designed for textile printing. As a reminder, you can Ghost white toner with several laser printers including HP and Canon.
Compatible Printers
One key difference between Oki and Ghost white toner is their compatibility.
Ghost White Toner is compatible with most HP and Canon laser jet printers.
The HP Color Laserjet Pro CP5225 is an example of a printer which you can use the ghost white toner with.
You can get any of their bundles that come with the printer and cartridge, in case you don't have a printer yet.
Oki has its own printer which it works with. It is not compatible with third-party printers. In other words, you will need to get the Oki printer, if you decide to get the Oki toner.
Oki has a series of white toner printers that you can select from, and some of them include:
Pro8432WT
Pro9541WT
Pro9542
Pro9541
Durability – Cracking and Washing of Printing
Both Ghost white toner and Oki toner have similar quality. They are good for printing on Fabrics.
However, both toners experience cracking, poor wash, and drier problems. This is because they contain plastic resins.
So in a short while, some of the printing might show cracks after a series of washing.
Well, if you get a decent hp laser printer, then you might be able to reduce the cracking effectively.
If you need a toner that doesn't experience cracking, then you will have to opt for the sublimation ink (it is not toner).
The sublimation ink only contains dye and water, it doesn't have plastic resins. Hence, why it is resistant to cracking and washing.
Price
In terms of price, the Oki products are much more expensive when compared to the Ghost products.
However, it all depends on which specific tier of product you are going for.
Ghost white toner doesn't produce printers, so what influences its price might be the cost of your choice of HP printer.
However, Oki produces and sells its own printers which you will use alongside its toner.
In that sense, Ghost White Toner has a flexible price that depends on your choice of HP printer. There are low-budget HP printers that work perfectly well with the Ghost white toner.
Alternatives to Ghost White Toner and Oki Toner
It is worth noting that there are other brands that produce toner and printers for textile printing.
If that is what you are looking for, then here are some other brands you might want to consider.
#1) Sawgrass
Sawgrass is a leading company in the textile printing industry. They have some of the best printers for textile printing.
They are on our list of the best sublimation printers for anyone looking to start a printing business.
So, you might want to check out their products.
#2) Epson Printer
This is the most popular brand that comes to mind whenever you are looking for a sublimation printer.
You can get any of the Epson printers to use for sublimation. And if you have a smaller budget, you can consider getting an old Epson printer.
Some of the old Epson printers can be converted for sublimation if that is your goal. This way you can save some money.
Wrapping Up
I hope you are able to decide between Ghost White Toner and Oki toner. Both are good toners but for different purposes.
In summary, Ghost White Toner can work with many laser printers and is created specifically for textile printing.
On the other hand, Oki toner can only be used alongside the Oki printer. And it is created for office and industry use only.